Welcome To France Removals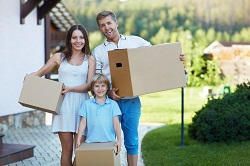 When you are choosing a removals company it isn't enough to choose someone who is strong in one area. Being great on the day just isn't enough any more, which is why we believe you want to choose a great all-rounder. Here at France Removals we have spent years honing our removals model to ensure that whatever it is you need, large or small, long distance or nearby, personal or professional you can call us on
confident that you are getting the best service that is out there.
A lot of people might look at our name and think that we are only here for people moving overseas. While it is true that we made our name performing long distance private and corporate relocations, we knew from the off that we wanted to be able to offer much more. We also knew, that if we had a model that worked on such a large scale first, we would be able to offer that much more than the competition when it came to smaller projects.
So let's talk about those services that we offer you, all of which apply whether you are moving house or moving office, overseas or just down the road. It starts with a free quote, but we don't just stick our head round the door and take a guess, in order to quote you properly we need to conduct it as if we were already planning the job. As a result, we measure everything thoroughly and calculate exactly what you will need on the site on moving day. We cover every detail, from manpower to vehicle space.
There are three distinct advantages to you in this process. Firstly, you can relax in the knowledge that our thorough nature isn't going to leave you short on moving day. Secondly, at a time when money is understandably tight you have the security of knowing that the items on your quote are only ones that you need. Finally, you get your first insight into our team.
The latter is important to us because how we conduct ourselves is probably the part of our service which is most important to us, because it is how you continental or UK removals company conducts itself which ultimately will dictate how relaxed you feel on moving day. This is why you will notice how clean and tidy our team members are. How well spoken they are, and how much respect they show you, your home and your possessions. You will also notice the pristine nature of our vans; cleaned from top to bottom after every job and regularly serviced so that your possessions are safe and secure while they are between homes.
However, when you are used to helping move from London to Paris there are a couple of things you learn, things which still translate when you are helping people move from Camden to Edinburgh or even just Kensington to Chelsea. The devil is always in the detail.
That is, while we try and plan everything as thoroughly as possible at the start we pride ourselves on being flexible. After all, no matter how many of these we do, each one is different and they each through up a unique set of problems. That is why we have a customer hotline number which is available 24 hours a day 7 days a week, purely to ensure that when the heat is on and you really need someone to talk things through with, either for advice or physical help we can be there for you.
When you call that hotline there are a number of additional services that might interest you, although all the options are available from the start. The first is our packing service. This began as something we would use to help people moving house, and while we are still proud of how frequently we are able to help people who simply don't have the time to pack everything they own, it has shown to be particularly useful for business relocations. When you are in business, particularly at the moment every hour you spend working is important. You can't afford to shut up shop for a week or so to disconnect computers and pack everything safely. So if you are moving office, why not call in our packing team on the Friday night, our removals experts on the Saturday and then us the unpacking team to help you out on the Sunday? In one weekend you can be moved in, set up and ready to throw your doors open to customers new and old. Full details of these and other additional services are available elsewhere on the site.
While we are hugely proud of the array of services we offer, and they all contribute to what it is we work towards as we seek to give you the most stress free moving experience out there, as we said above, it is our customer support network that we believe makes us the stand out option. From out 24/7 hotline right down to the team member on the floor who makes you smile at the end of a long, hard, emotionally charged day, everybody here at our London base is devoted to making the process as easy as possible for you and your family or workers.
Feel free to have a look at our testimonials page before you make your final decision. Since it is our customer care that makes the difference from our point of view, it makes sense to see how customers react. Note the number of families that have recommended us to their nearest and dearest, because if ever there was a finer testimonial than that, we have no idea what it would be.
Once you have decided you want France Removals to take care of your move, whether you want our big job expertise as you move overseas or simply want our experience and attention to detail to help you manage a smaller project safely and securely, call us on
today to arrange your free quote.